Wahoo we are finally kicking off our very first challenge over at
Fussy and Fancy Friday Challenge
. The first challenge is NEW, you can interpret it to mean what you want. For this card there are a few NEWs, first being this lovely image called PMS Fairy from
Paper Makeup Stamps
. I used a NEW technique since this is my first easel card. Also this was my first time using Sharpies on a card (I didn't have a hot pink Copic so I went for the sharpie that has been hiding in a drawer). The last NEW thing on this card are the flowers (Bo Bunny).
Card details, well if you have already been to
Fussy and Fancy
you may have noticed that quite a few of us made pink and black cards. The lovely
April
suggested that we add the option to make the DT samples pink and black to match our blog. Well I thought that was a great idea so I colored my image to fit in with a pink and black theme. I knew I wanted to make an easel card to go with the NEW theme and everything just sort of fell into place. The card stock, sentiment, and border punch are SU, DP is Making Memories, Bling is Me and My Big Ideas and I'm not sure where the ribbon is from. It wasn't until I was looking for a sentiment that I realized that this card was perfect for my niece's Sweet 16, which happens to be today. So sadly I will not be around to see how our first day goes but I will be back tomorrow. I look forward to seeing everyones creations.

I hope you will join us here for our first challenge. The sponsor for this challenge is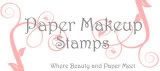 , check out their lovely images. They have digis as well as rubber stamps :). Also don't forget to head over to the other Fussy and Fancy girls blogs to check out their cards.
On to my New Years resolutions. The most important thing
is that I get active. I need to for my sanity and to loose a few pounds (honestly I have a lot to loose but I'm taking baby steps). Another resolution is to create more. I want to post to my blog at least 3 times a week. The final one would be to let those who are an important part of my life know that they are important. Sometimes we don't realize people are a big part of our lives till they are no longer with us.